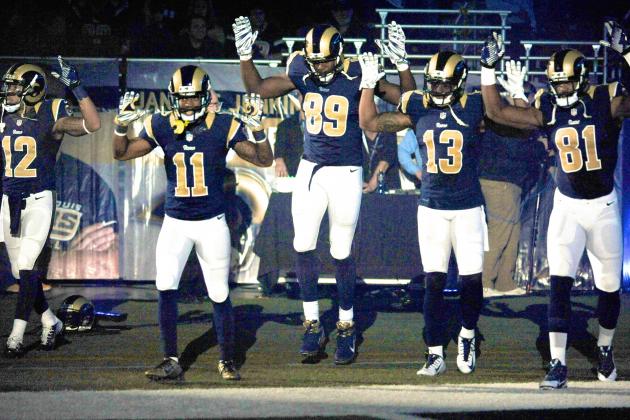 On Sunday during the introductions of the Rams players for the Rams-Raiders game at the Edward Jones Dome in Saint Louis, Stedman Bailey, Tavon Austin, Jared Cook, Chris Givens and Kenny Britt entered the field with their hands up in the air. The gesture was used to show solidarity with the Ferguson protestors. Since the August 9, 2014 shooting of Michael Brown, protestors have been using the rallying cry "hands up, don't shot" while raising their hands up in the air in a surrender gesture. It is intended to send the message of how law enforcement are mistreating young African-American males by assuming that they are a threat because of their ethnicity and gender.
As a life long Rams fan, I was moved by the gesture of solidarity. It showed how much the Rams, or at least these five players with the Rams organization, care about the Ferguson community. During the 2014 NFL Draft, the Rams made the bold move to draft Michael Sam, making him the first openly gay American football player with the NFL. The Rams are keeping in stride with positive social change by showing that they are against racial profiling. The gesture also reminded me a lot of the 1968 Summer Olympics Black Power salute done by Tommie Smith and John Carlos during their medal ceremony.
It didn't surprise me to read comments by other Ram fans on social media who were against it. In fact the Time OUT Sports Bar & Grill in Saint Louis are boycotting the Rams over it and turning their support to the Kansas City Chiefs. It saddens me when people take an act that is trying to draw attention to social injustices and then turn it around and make it look like the person drawing the attention to these facts are the violent ones.